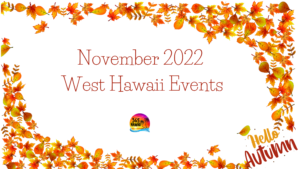 Fall is in the air! You can feel it in the crisp morning breeze, the shift of the light in the afternoon, earlier darkness in the evenings and a tendency to be shocked that your friends tell you it's snowing already where they live on the mainland! Put the pumpkins away (or throw out the ones you cut into and are now rotting!) and pull out your shorts and t-shirts in autumn colors as we are still a month away from the temperatures really changing in West Hawaii! If you love Kona coffee, this is your month! I have added more info about the Kona Coffee Cultural Festival for you to see the fun. Buy your festival button to participate! 
Here are all the exciting things you can do in November in West Hawaii! 
November 4-13, 2022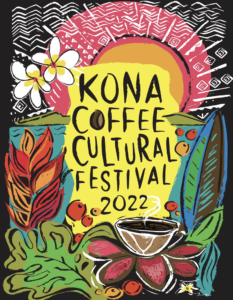 KONA COFFEE CULTURAL FESTIVAL
The annual celebration of one of Hawai'i's most famous products. For a list of events, visit Kona Coffee Festival Events.
November 4th 
First Festival Friday 
Hale Halawai County Pavilion 
75-5760 Ali'i Dr., Kailua-Kona
2:00 p.m. – 9:00 p.m.
Spend the afternoon enjoying the events at Hale Halawai including craft vendors, family friendly activities and yummy food from a variety of food trucks. 
LANTERN PARADE – 6 p.m.  
Alii Drive, Kailua Pier to Hale Halawai, Kailua-Kona
With glowing procession of light, music and color, Alii Drive lights up as the parade winds its way from Kailua Pier to Hale Halawai.
November 5, 2022
HOLUALOA COFFEE & ART STROLL
Check out this popular Coffee Festival event in the artists' colony of Holualoa. From 9am-3pm there will be 35+ Hawai'i coffee farm vendors represented, tasty treats and local goods. Kona Coffee Festival Events.
November 11
Kona Coffee Village & Kona Coffee Cupping Competition Awards Presentation
Hale Halawai County Pavilion 
75-5760 Ali'i Dr., Kailua-Kona 
1 p.m.- 7 p.m.
4:15 p.m – Kona Coffee Cupping Competition Awards
Certified cupping judges have spent three days scoring Kona's top farms in the prestigious Kona Coffee Cupping competition and will be on-site to announce the winners.  Join us for some coffee education & samples from the top 10. Spend the afternoon enjoying the events at Hale Halawai including hands on crafts and family friendly activities, yummy food from a variety of food trucks and local artists & vendors including our festival featured artist.  Free entry with festival button.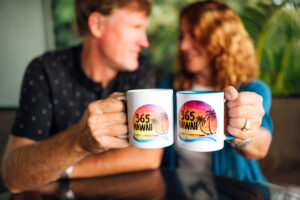 November 8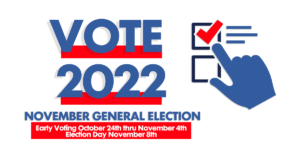 VOTE!
If you did not mail in your ballot-you can turn in your ballot in person at the West Hawaii Community Center.
November 12
100% Pure Kona Coffee Half Marathon
Starts at Coconut Grove Marketplace at 6 am. 
Race goes from downtown Kona to "End of the World" in Keauhou. 
Kona Coffee Festival Ho'olaule'a 
Makeo County Pavilion (Old Airport) 
A day of Kona coffee celebration with live entertainment, arts and crafts, lei contest, educational historic exhibits. Musical entertainment all day. 
November 18 & 19, 2022
20th ANNUAL 'UKULELE & SLACK KEY GUITAR FESTIVAL – WAIMEA
A festival like no other, musicians will take the stage together to talk story, play music, and share their experiences as award-winning Hawaiian music artists. November 18 is Ho'olaulea Night: Each of the artists will take the stage individually as well as invite small groups to join them as they showcase their favorite songs and one-of-a-kind musical collaborations. 7pm; tickets $65/35. November 19 is Kanikapila Concert Day: At 4pm, the musicians take the stage in a slightly less formal concert setting. After intermission, audiences with tickets with an instrument will be invited to join the guest artists on stage. (Please note there are limited tickets to play on stage with the artists.) The artists take turns leading each other in both song and story, finding new inspiration in the music they love to share. $30 (Kanikapila – playing an instrument) / $25 (General Audience seating – not playing an instrument). This fantastic festival will feature Hawaiian musicians Jeff Peterson, Sonny Lim, Honoka Katayama, Ledward Kaapana, Nathan Aweau, Mike Kaʻawa, and more! visit kahilutheatre.org.
November 19, 2022
FRIENDS OF THE LIBRARIES, KONA, BOOK SALE
The Friends of the Libraries, Kona (F.O.L.K.) is holding a "mini" Book Sale inside the Kailua-Kona Library from 9:00AM to 12:00PM. Book Sales have nice selections and great prices. Cash or check only. Proceeds from book sales help support special programs and the needs of the Kona libraries. As always, volunteers are welcome. Visit www.folkhawaii.com for more details.
November 19 and 20, 2022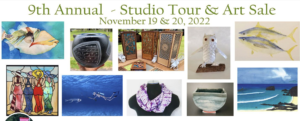 KONA PALISADES OPEN STUDIO ART TOUR AND SALE
Self-guided art tour for local artists hosted at locations in Kona Palisades from 10 am to 4pm. Visit the artists' facebook pagefor details.
Sunday, November 20
Kokua Kailua Village Stroll
Join in the pre-holiday shopping fun and community on Alii Drive near the Pier, the street is closed for the Stroll from 1-6pm, with local vendors and artists' booths. Leashed dogs welcome. 
This event calendar comes to you as a community service benefit from 365Hawaii Group-Keller Williams Realty Big Island. We don't just sell real estate! We educate would be homebuyers and sellers on the market, issues affecting the community and host events for new residents and potential residents to create community and volunteer in West Hawaii. Join us on January 14-15th at the Outrigger Kona Convention Center as we offer a variety of free real estate and community educational seminars!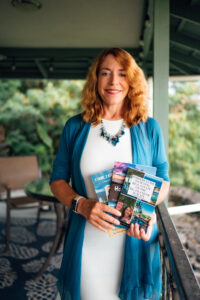 Julie Ziemelis REALTOR, founder of 365 Things to Do in Kona, 365 Kona Newbies Group, 365Hawaii YouTube channel, 365Hawaii Real Estate Minute on Youtube, the Hawaii Island Real Estate podcast and author of real estate books and resources.
RS: 85062.